Instead of Cookies & Milk, my brother and I leave silly letters and gifts for Santa. Here is what my brother and I left for Santa in 2003, 2001, & 2000!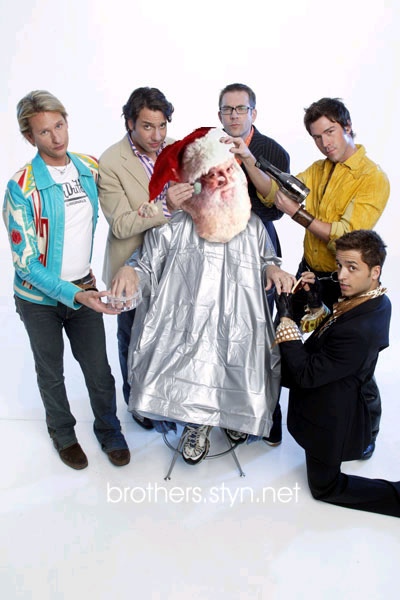 2003 LETTER:
Dear
Santa, Obviously, you are a man who is at peace with his feminine side.
I mean, look at the way you dress: Bells, red suit, fur.
Kudos to you for really embracing that whole "gay apparel"concept!!
But…
You need to give that same gay attention to your grooming, boy!
The polar bear look went out with bath houses.
Its time to freshen up your look and tame that beard.
Your look says ZZ top, and we want it to be Chi-Chi HOT! We love you no matter what.
We just think Mrs. Claus would appreciate it and you may even feel better
about yourself, too.
Think about it.

The Fab Two,
Jimmy and Johnny
2001 LETTER:
Dear
Santa,
Merry X-mas, Santa!

Just wanted to give you a heads up: The PETA people (People for the Ethical Treatment of Animals) have been putting a lot of pressure on Man-Beast relationships.

Now, *we* know that the Reindeer are all on your team by choice. We know that the harnesses, whips and other bondage gear is all consensual. But the folks at PETA are a bit aggressive in their attacks of any potential abuse.

The British tabloids been saying that a few of the reindeer (Prancer in particular) are being held against their will. Now, you and I both know that this is ridiculous. Any reindeer (or midget, elf or dwarf, for that matter!) would kill to be a part of Santa's team.

We know it's silly, but for everyone's sake, keep it on the down low for a while. Try to get some publicity shots of Rudolph's red nose and a big happy smile.

In any case, Thanks for stopping by! We're huge fans of your work.

Love,
Johnny & Jimmy

(and we left a copy of a book by the Marquis De Sade.)
2003 LETTER:
Dear
Santa, We realize that sometimes it's easier to put on blinders and go through life. But sometimes it's important to look within yourself and ask, "WHY?"
Why do I feel it is important to have the fastest sleigh on the block?
Why do I feel the need to wear flashy red clothes all the time?
Why do I surround myself with "little people"?

What are you overcompensating for?
Are there problems with Mrs. Claus?
Or perhaps an inferiority issue (seeing as how your big day is kinda over-shadowed by that Jesus guy)?Here are some books that might help you confront the inner you.And remember, no matter what, we love you.

-Jimmy and Johnny

then we set out a stack of self-help books like:
Average Rating:
4.4
out of
5
based on
182
user reviews.